It's never too late to start class. Find out more here.

4-year colleges visit RRCC to answer your transfer questions.

RRCC invites you to an Open House!

Projectile projects! Physics taken to a higher level! Register for competition by Nov. 4.

Lesbian, Gay, Bisexual, and Transgender (LGBT) History month.

 There will be a planned system-wide maintenance outage on Sunday, October 26th from 4:00 AM...

It's that time of year! Protect your health with a $10 flu shot.

Study abroad opportunities that blend accredited academic coursework with co-curricular travel.

Civil Rights Road Trip :: Spring 2015 - Don't miss presentation on 10/22/2014
It's never too late to start class. Find out more here.

4-year colleges visit RRCC to answer your transfer questions.

RRCC invites you to an Open House!

Projectile projects! Physics taken to a higher level! Register for competition by Nov. 4.

Lesbian, Gay, Bisexual, and Transgender (LGBT) History month.

 There will be a planned system-wide maintenance outage on Sunday, October 26th from 4:00 AM...

It's that time of year! Protect your health with a $10 flu shot.

Study abroad opportunities that blend accredited academic coursework with co-curricular travel.

Civil Rights Road Trip :: Spring 2015 - Don't miss presentation on 10/22/2014
RRCC News & Announcements
Calendar :: Upcoming Events
ARVADA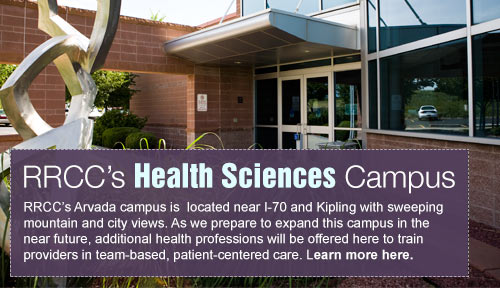 We are proud to offer the following fields of study:
Diagnostic Sonography
Radiologic Technology
Nurse Aide
Home Health Aide
Hospice Care Aide
RN Refresher
Holistic Health (includes yoga instruction, massage therapy, and reflexology).
As we prepare to expand this campus in the near future, additional health professions will be offered here to train providers in team-based, patient-centered care from the very beginning of their careers.  In addition, we offer core transfer courses to students to serve students more local to this area. Learn more here.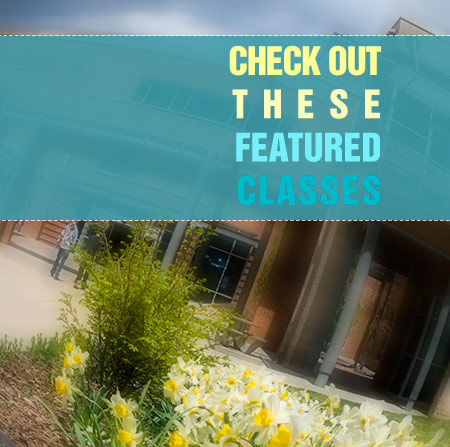 RRCC has classes to fit your busy schedule starting throughout the semester...classes that meet your elective and required course needs: online, weekend, accelerated, hybrid, self-paced, and newly designed classes based on student needs.
See "Featured" and "Late Start" classes here.